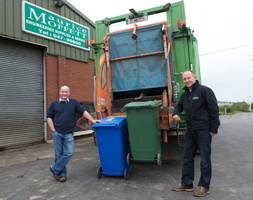 When Local Waste Management Company McElvaney Waste & Recycling came up with the idea of converting their existing fleet of refuse collection vehicles to allow them to collect two types of waste streams together, they tuned to local well renowned engineering form Moffett Engineering to come up with a solution.

Together they have successfully completed the conversion of two truck to date allowing McElvaney's to begin the task of changing their collection schedule to the 10,000 domestic customers they service throughout county Monaghan.

Hugh McElvaney, General Manager of McElvaney's Waste & recycling explained:

"We were looking at cost savings within the company. I saw our truck using so much fuel travelling the rural roads of county Monaghan 52 weeks of the year. So without affecting our customer's level of service and still allowing for 52 collections per year, we said why not travel the roads only 26 times and collect both bins at the same time! Moffett's have been great in coming up with a solution of converting our up to date fleet of trucks by simply dividing the main body of the truck in half and so keeping the waste from mixing with the recyclable material. So you could say that one truck has now become two!"

Over the coming weeks McElvaney's will notify their customers in advance of the changes to their collection routine and at the same time assuring them of continued excellent service that they have become accustomed to over the past 26 years.